Click HERE to register for the free Fall Sound Garden
at Texa Tonka Park on Saturday Oct 8.
(Rain Date is Sunday Oct 9)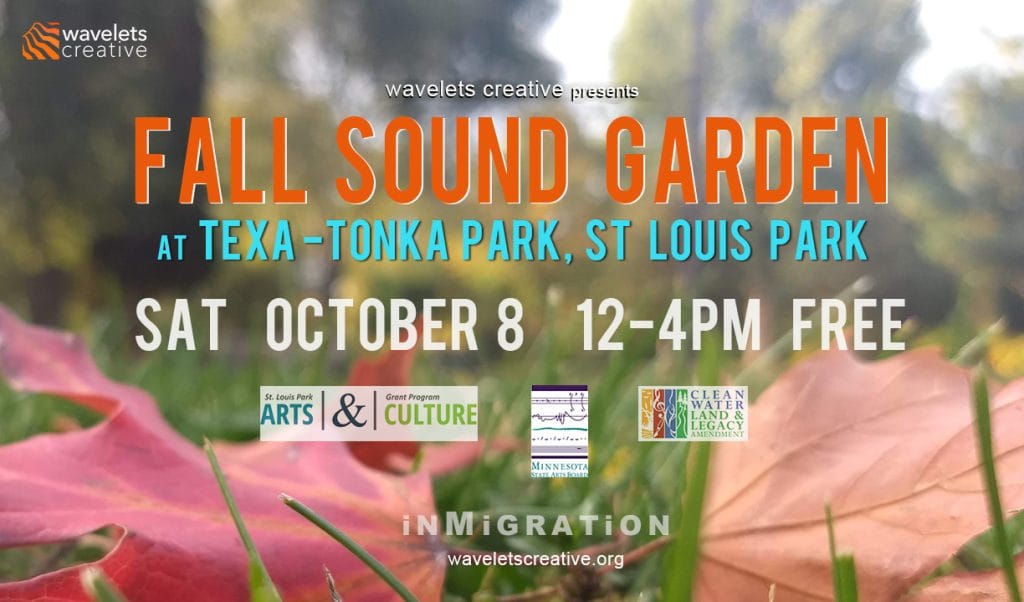 This fall, Wavelets Creative brings the Fall Sound Garden to Texa-Tonka Park, in St Louis Park, MN, as part of the City of St Louis Park's Arts & Culture 2022 Public Art & Events program.

The Texa Tonka Park Sound Garden event is a free, family-friendly, self-guided event that features
a sound installation of 70+ small, wireless speakers, distributed throughout a section of the park, (see map)
with live accompaniment by roving musicians and dancers, and embedded poetry and site-specific visual art.
WHAT IS A SOUND GARDEN? interview w/ composer JG Everest
(for more short videos & photos of previous Sound Gardens projects check out our Sound Gardens page)

The Texa Tonka Park Sound Garden will be located along the North Cedar Lake Trail, a wide paved pedestrian and cycling trail that runs through Texa Tonka Park from downtown Minneapolis.

In the weeks leading up to the event, we are offering three free community Art + Nature workshops, where
local participants are led by naturalists on guided nature walks and join in
art-making activities led by Teaching Artists in three disciplines: Poetry, Sculpture, and Music. The artistic
elements created and developed in these workshops by community members (poems, sculptures,
music) will then be featured in the larger Sound Garden event on Oct 8, as a gift to the wider community.
(For context, these workshops are similar to our previous Monarch Magic! series at Lake Nokomis Park for the Mpls Monarch Festival.)

FREE COMMUNITY WORKSHOPS SCHEDULE: (Click on each one to register)
Sat Sept 24 1-4pm Poetry Workshop w/ poets Chavonn Shen, & Lisa Yankton
Sat Oct 1 2-5pm Music & Sound Workshop w/ composer JG Everest, percussionist / MC Truth Maze, and Matty Harris
Sun Oct 2 1-4pm Natural Sculptures Workshop w/ Sculptor Jim Proctor
Join us for four FREE outdoor community Art + Nature workshops in the Park!
Take a guided nature walk in the park and then participate in art-making activities for the new Sound Garden event! (scroll down for more info)