The Fall Sound Garden at Texa-Tonka Park took place on Saturday Oct 8, 2022.
In Fall 2022, Wavelets Creative brought the Fall Sound Garden to Texa-Tonka Park in St Louis Park, MN, as part of the City of St Louis Park's Arts & Culture 2022 Public Art & Events program. READ PREVIEW ARTICLE from the Sun Sailor newspaper here.

The Fall Sound Garden at Texa Tonka Park was a free, family-friendly, self-guided event that featured
a sound installation of 60+ small, wireless speakers, distributed throughout a 3-acre section of the park, (see map below)
with live accompaniment by roving musicians and dancers, and embedded poetry and site-specific visual art, including some elements created by community members through a series of 3 free community Art + Nature workshops. (see below). The Fall Sound Garden at Texa-Tonka Park was presented by Wavelets Creative in partnership with the Texa-Tonka Neighborhood Association, The St Louis Park Historical Society, Three Rivers Park District, and St Louis Park Parks & Rec.
KSTP-TV Interview w/ Composer JG Everest about the Fall Sound Garden at Texa-Tonka Park
Social Media video posts from the Fall Sound Garden at Texa Tonka Park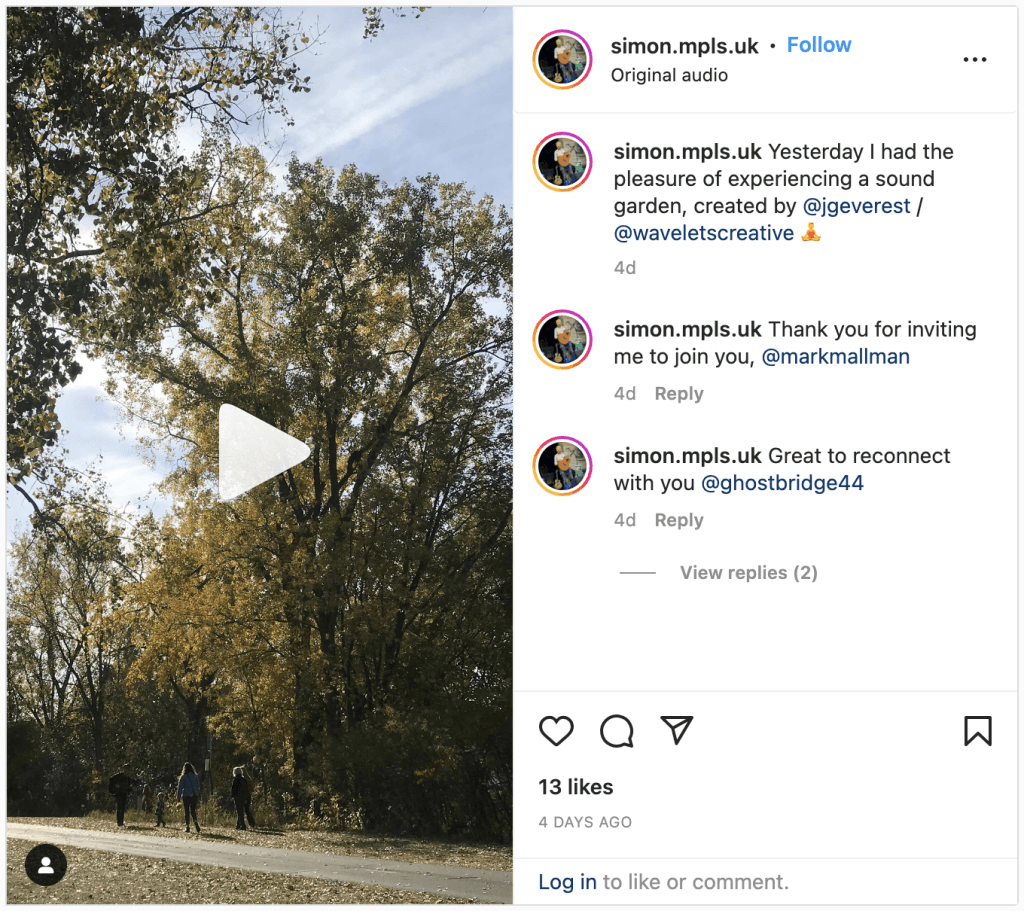 (Scroll down for more photos from the Fall Sound Garden at Texa-Tonka Park. For more videos & photos of previous Sound Gardens projects check out our Sound Gardens page)
Comments & Reflections from the Fall Sound Garden at Texa-Tonka Park:
"I felt really calm and relaxed. It was almost like a guided meditation experience. I really enjoyed the opportunity to slow down, and just notice my surroundings. I was surprised at how much visual and written art there was in addition to the soundscapes." – AJ

"what a beautiful way to unplug from daily life" – anonymous

"I felt a sense of calm. The music was almost hypnotic. I enjoyed finding the "sweet spots" where everything seemed to come together – music from multiple directions, the sound of the wind in the trees as well as the visuals of the trees and environment. The wonderful dancers, the information signs that described the plants and animals." – Jen

"I felt wonderful and my experience was wonderful. My favorite parts were the sun, the glorious day, the sound of the cottonwood leaves in the wind." – Nancy
"I felt peaceful, relaxed; after leaving and driving home the two of us did not talk until we were almost home and then it was in a whisper….I loved how the music came together & how you hear it differently by changing places; liked the poems that were posted-they went well with nature & music; surprised that you couldn't hear the kids on the playground like you normally would; the train passing by did not disrupt the experience." – Sandy

"Sounds were magical. Uplifting being in nature and with other humans. I was surprised by the wide range of humans there. A feeling of community with no agendas. Unspoken appreciation for all of our relations." – anonymous

"We found it to be a calm and mindful experience. We appreciated your lovely wooden benches to rest at. We were surprised that most of the people there respected the quiet environment." – Richard

"I'm 63 and brought 3 girls, age 9-11 with me. We all felt peaceful and connected to what was around us, noticing details. I so appreciated the opportunity to peacefully explore and discover. I also loved sharing the experience with the kids. I'd been to one of these previously, along the Mississippi. The speakers are always fun to discover, and we enjoyed contemplating the signage and messages. This one felt more peaceful and I enjoyed the community garden and bike path running through the park." – Deb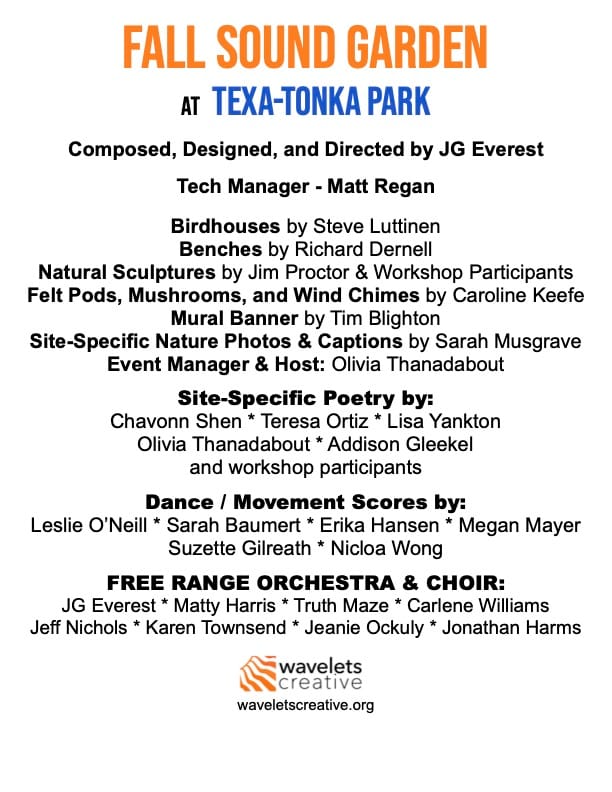 The FALL SOUND GARDEN at Texa-Tonka Park was located along the North Cedar Lake Trail, a wide paved pedestrian and cycling trail that runs through Texa-Tonka Park from downtown Minneapolis to Hopkins.

In the weeks leading up to the event, we offered three free community Art + Nature workshops, where
local participants were led by naturalists on guided nature walks and joined in
art-making activities led by Teaching Artists in three disciplines: Poetry, Sculpture, and Music. The artistic
elements created and developed in these workshops by community members (poems, sculptures,
music) were then featured in the larger Sound Garden event on Oct 8, as a gift to the wider community.
(For context, these workshops are similar to our previous Monarch Magic! series at Lake Nokomis Park for the Mpls Monarch Festival.)

FREE COMMUNITY WORKSHOPS SCHEDULE (at Texa-Tonka Park):
Take a guided nature walk in the park and then participate in art-making activities for the Fall Sound Garden event! (scroll down for more info)
Sat Sept 24 1-4pm Poetry Workshop w/ poets Chavonn Shen, & Lisa Yankton
Sat Oct 1 2-5pm Music & Sound Workshop w/ composers / musicians JG Everest and Matty Harris
Sun Oct 2 1-4pm Natural Sculptures Workshop w/ Sculptor Jim Proctor
PHOTOS from FALL SOUND GARDEN at TEXA-TONKA PARK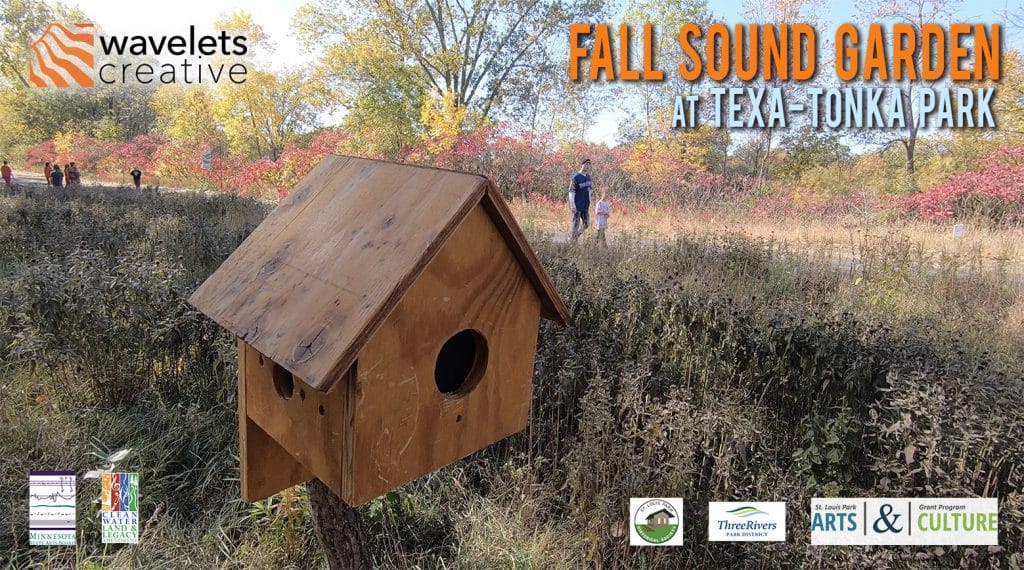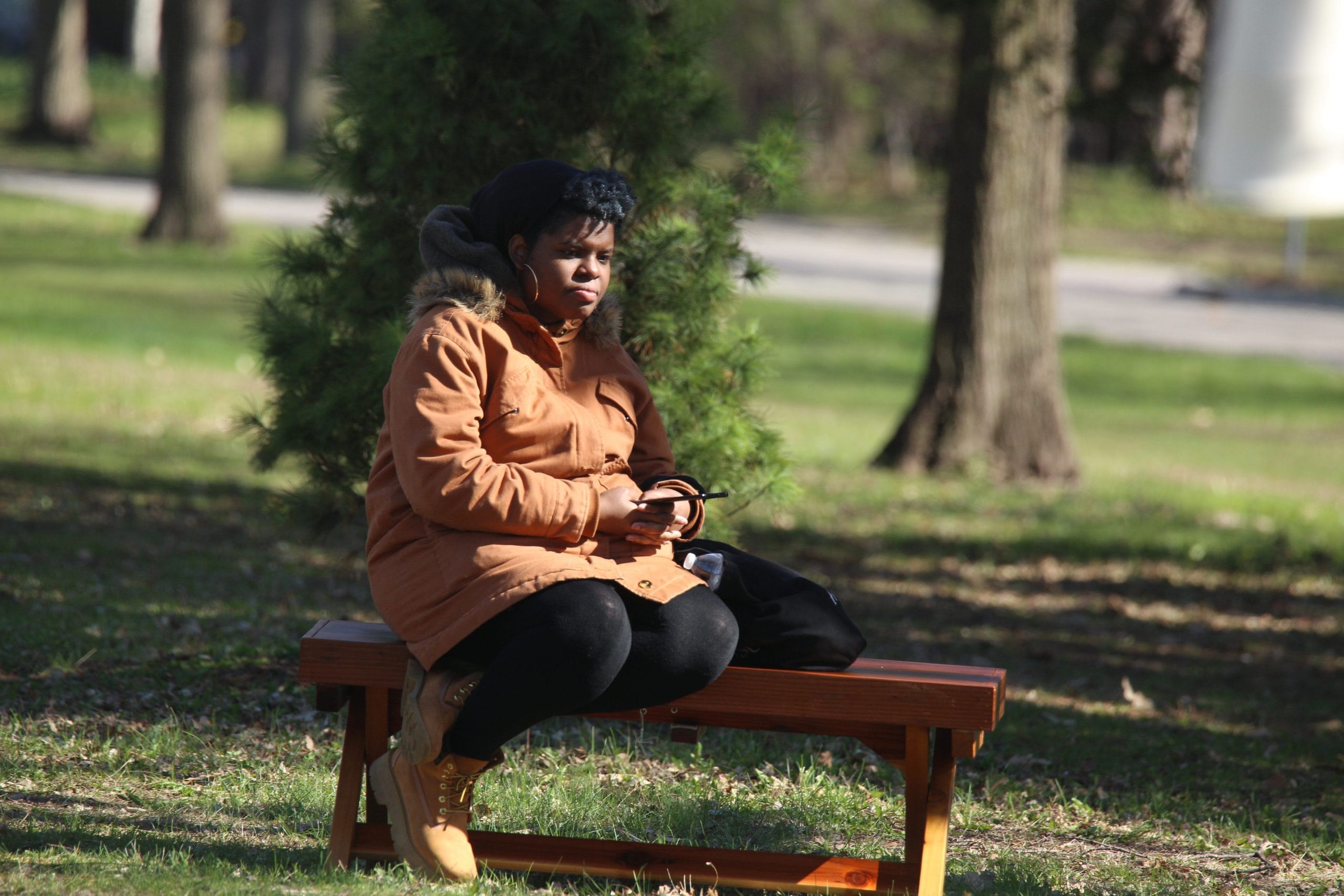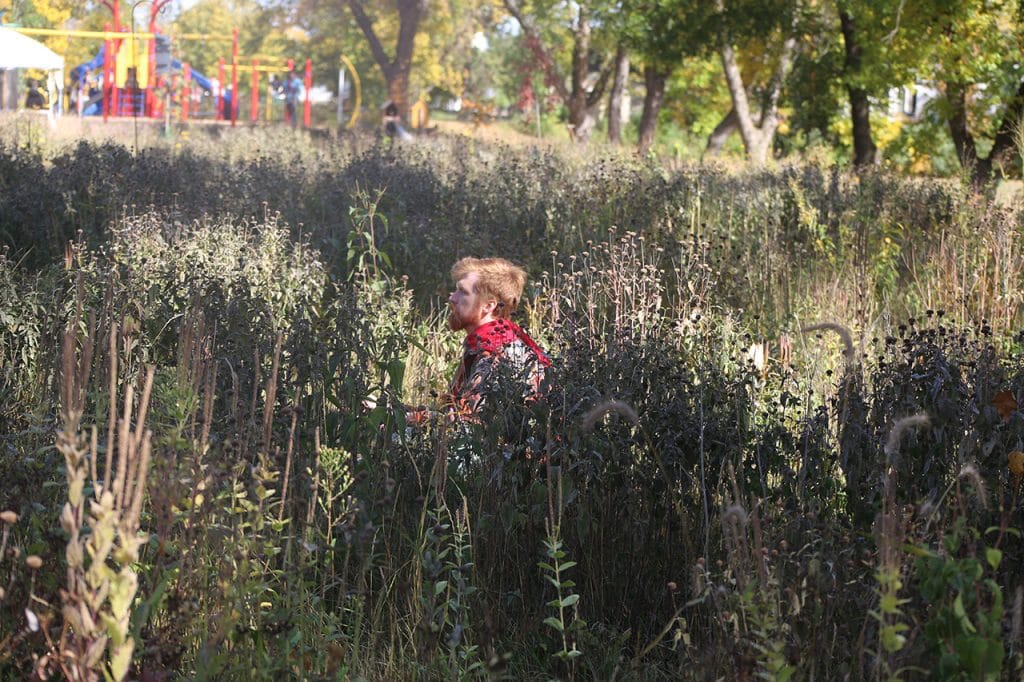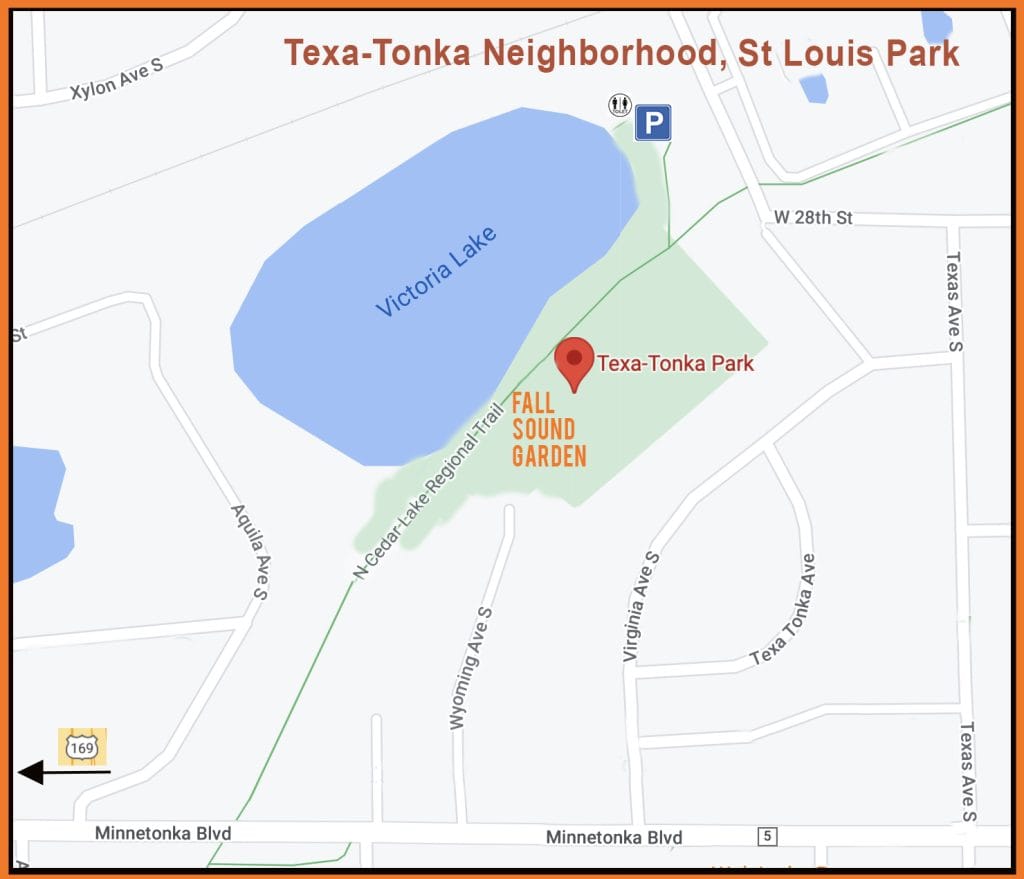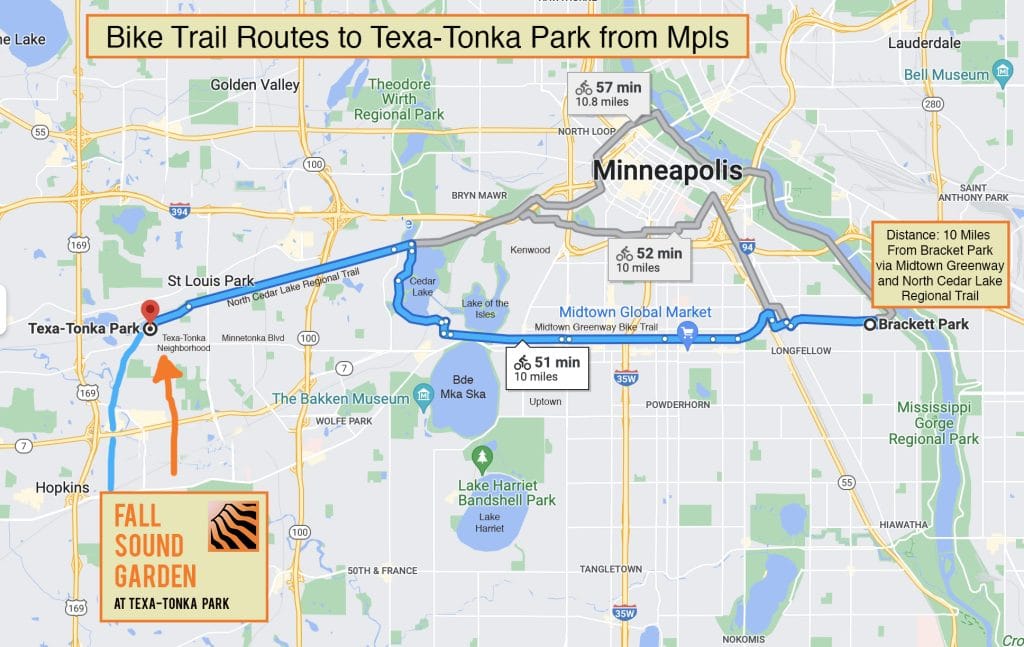 This activity is made possible by the voters of Minnesota through grants from the Minnesota State Arts Board, thanks to a legislative appropriation from the arts and cultural heritage fund.