installation environments (we are all in migration)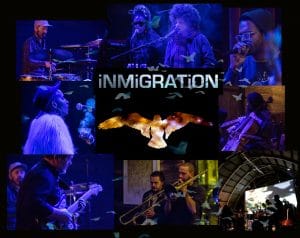 Improvisation can be one of the most important elements in an artistic practice, and improvising with other artists and performers is a core part of what we do – coming together in community to listen and create moments of spontaneous discovery that we can share with the wider world. The iNMiGRATiON series began in 2015 as a vehicle for bringing together a diverse range of artists and audience to experience and appreciate the power of improvised performance – poets, musicians, performance artists, visual artists, theatre artists, etc.
The name and concept behind iNMiGRATiON comes from nature – birds migrating on different flight paths and journeys, pausing together in a particular place, on the branches of the same tree, sharing space, to sing their songs together for a brief time, creating moments of spontaneous collaboration before they fly off on their own paths again. Some birds sing, some just listen.
The ongoing iNMiGRATiON series is designed as a raw creative process laid bare, where lines are blurred between "performer" and "audience", where there are no fixed focal points, and where multiple voices, perspectives, impulses, and images are honed in a collective adventure in harmony and discovery.
The site-specific iNMiGRATiON Series combines live music, live poetry, dance, performance, live projections, and visual art into living, morphing installation environments. It is designed to connect artists and audiences who have never encountered each other before, to experience something spontaneously created and shared by friends and strangers, and make new connections within our community.  And as site-specific works tied to particular places, these events connect participants and attendees alike to sites in their community in new ways, altering the ways those spaces can be moved through, imagined, and remembered.
For Artistic Director / Composer JG Everest, improvisation is an essential part of the creative process, but also a personal practice of being present and listening carefully, and when practiced collectively, a high art of collaborative harmony.  When a space is filled with the energy of several skilled and accomplished artists, across disciplines, focusing on creating something beautiful and uniquely of-the-moment together, it can affect everyone present in profound ways. For over 20 years, Everest has been curating and presenting similar events, developing these approaches, as a way to build community and explore new artistic and collaborative territory, evolving over the decades to include an ever-widening community of artists and audience, expanding across disciplines to find new hybrid forms and artistic possibilities.
The iNMiGRATiON artists, performers and audience members pause on their journeys, brought together to share space and time, to see what magic unfolds around them when they pay attention, listen, and participate in whatever role they play. We are all "In-Migration" – in constant flux and flow throughout our lives, and these events attempt to acknowledge, move with, and celebrate this universal truth.  The goal of the series is to provide participating artists unique opportunities to create work outside of conventional contexts, collaborate across disciplines, and work with new colleagues and new audiences.
Collective improvisation is at the core of each iNMiGRATiON event, and to insure that the results are both challenging and cohesive, each iNMiGRATiON lineup is different, with different combinations of artists, across disciplines. Artistic Director JG Everest curates and directs the events, in collaboration with participating artists. Some of the included artists have been collaborating for over 20 years together, while others have never met or collaborated with each other, resulting in a mix and balance of old and new artistic territory.
A "performance installation" is an immersive, multi-layered installation that also functions as a realtime performance, and iNMiGRATiON events are wholly improvised so that neither artists nor audience know what will unfold, thereby heightening the awareness of every moment, fostering an environment of real harmony.  The main artistic layers featured are as follows:
The Music: The spatial, dynamic, and ever-shifting music at iNMiGRATiON is the glue, the connective tissue that holds the various elements together, and carries participants and attendees through its unfolding layers of poetry, performance, and visual art.  The live music is performed by two distinct ensembles, simultaneously: The "orchestra pit" ensemble Sans Le Systeme and The Free Range Orchestra & Choir, a roving ensemble of voice, wind, and percussion players that circulate throughout the space, unamplified, activating its corners and forgotten spaces, surrounding the audience and creating a sense of inclusion and shared space, eliminating the "fourth wall".  iNMiGRATiON events typically feature between 20-30 musicians and singers.
The Poetry: iNMiGRATiON features a diverse and dynamic roster of performing poets whose voices and words provide moments of focus, perspective, tone, and imagery to the swirling, multi-layered sound and visual components. Poets take turns stepping to the mic to perform their work with live, improvised accompaniment by the musicians, visual artists, and performers.
Visual & Performance Art: iNMiGRATiON events feature visual art elements presented as part of the installation experience in two different ways, depending on the type of event.  In dark / nighttime settings, live-mixed video art is projected on multiple surfaces around the space, improvised and crafted in real-time, in concert with the musical, poetry, and performance elements. For outdoor, daylight events, such as a farmers market or city park, site-specific visual art such as prints, photography, painting, and sculpture are featured around the space, along with site-specific dance and performances.
iNMiGRATiON Video Gallery
iNMiGRATiON Photo Gallery