What is a Sound Garden?
Sound Gardens are site-specific sound + performance installations employing custom spatial speaker sets to create immersive ecosystems of sound that layer and mingle with existing sounds in nature. Each speaker plays a different part of the whole piece of music, so that every step, every turn of the head, every bird song and shifting breeze results in a different mix and arrangement of the music. Sound Gardens typically also feature commissioned site-specific poetry, visual art, storytelling, dance, history, and live performances by the roving Free Range Orchestra & Choir and other performance / performing and dance artists. Sound Gardens are durational events, designed for a deepening experience over time, enriching the relationships between participants, attendees, and the particular places they are planted. (scroll down to read comments and and reflections from past attendees)
Sound Gardens celebrate community-sourced, site-specific content, and often include educational and community outreach programs to bring community members, students, or clients into the creation and performance process. In partnership with local schools, parks, historical societies, libraries, and other arts and community organizations, Sound Garden projects are a unique opportunity for community members to participate across artistic disciplines and learn about site-specific ecology and history.
"My spatial soundscores are designed and intended to provide an immersive experience for the listener that connects them more deeply to a particular place and the natural world." – composer/ director JG Everest, Wavelets Creative Artistic Director
Upcoming Sound Gardens events and series
(click images for more info)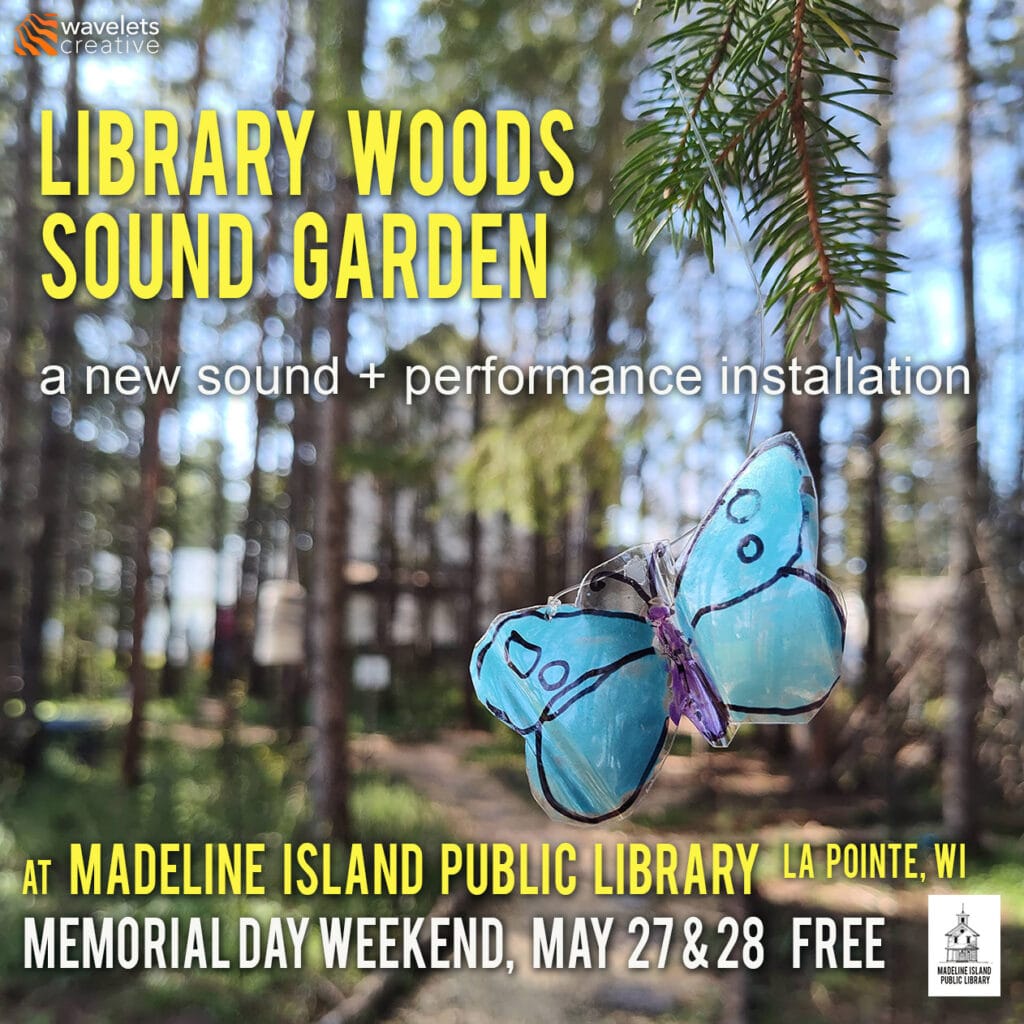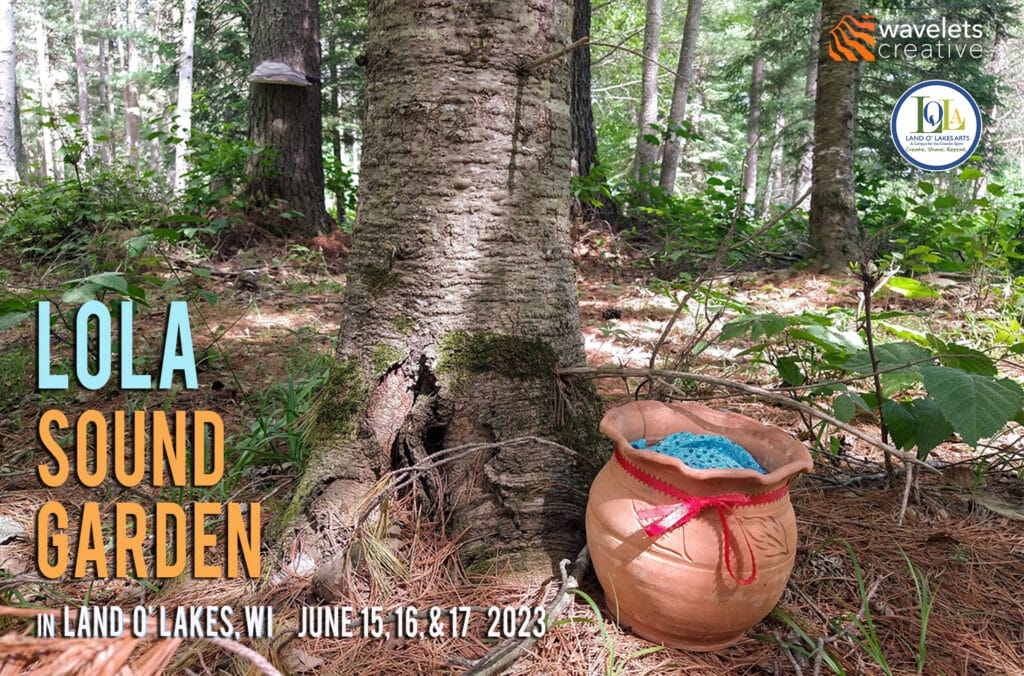 past Sound Garden projects & series
(click images for more info and photos)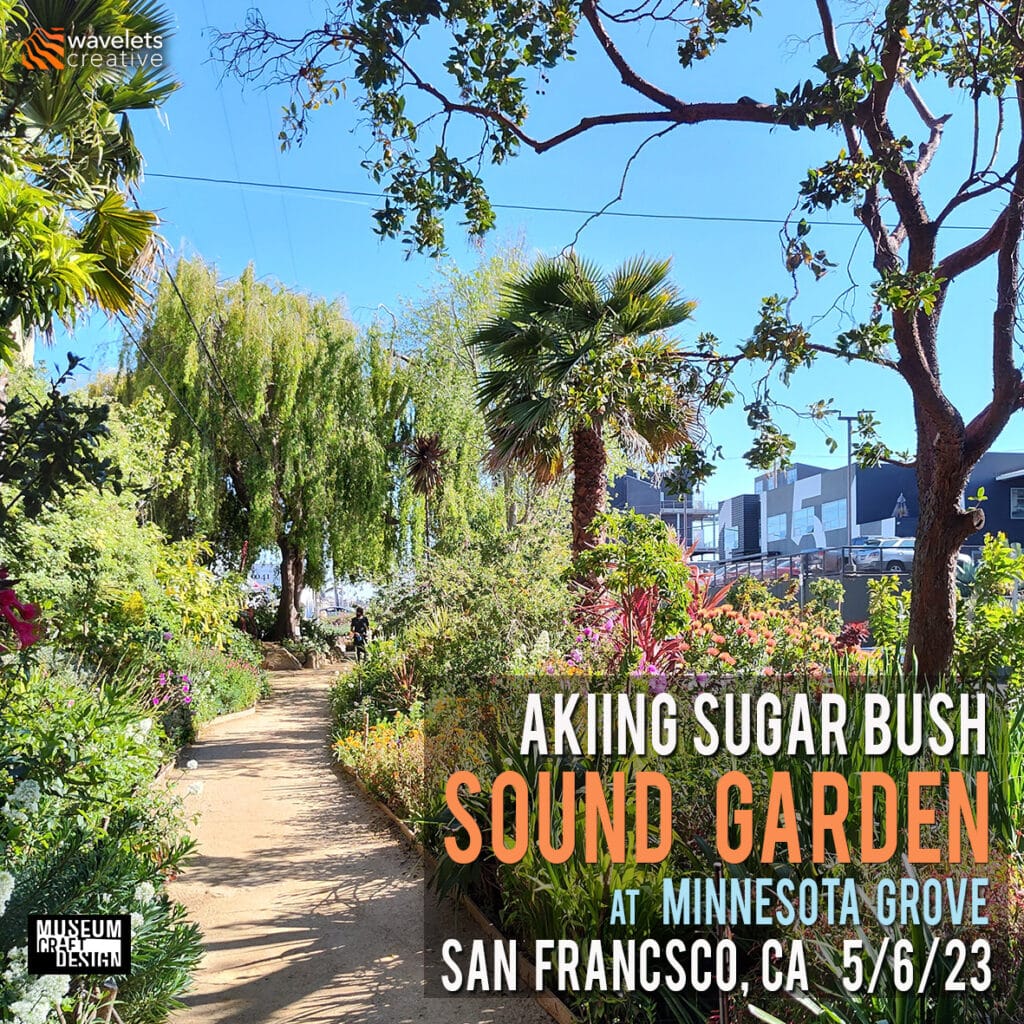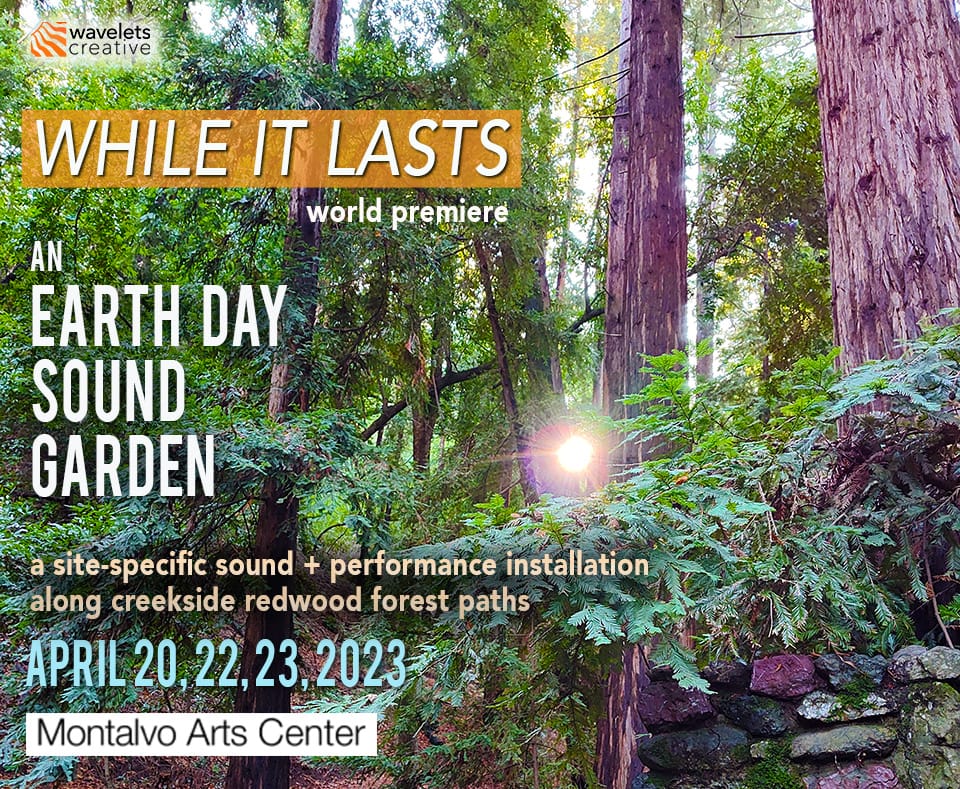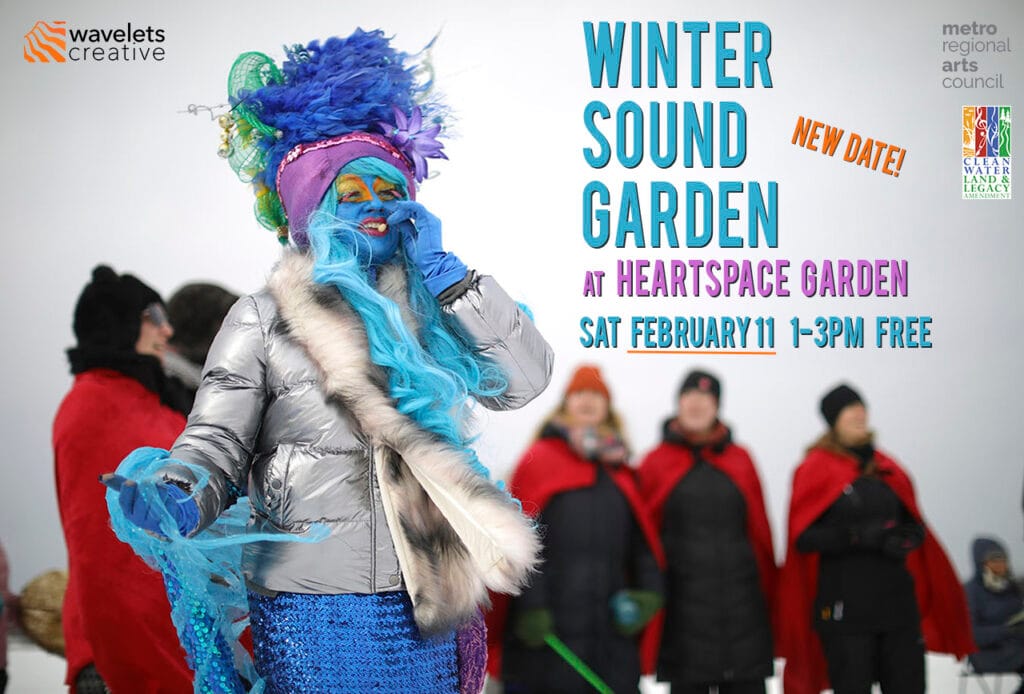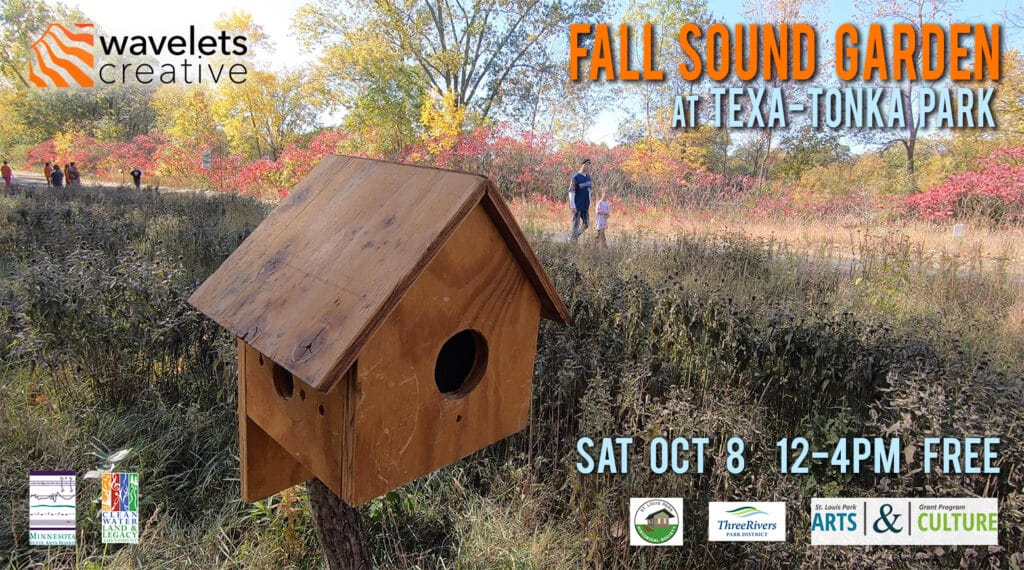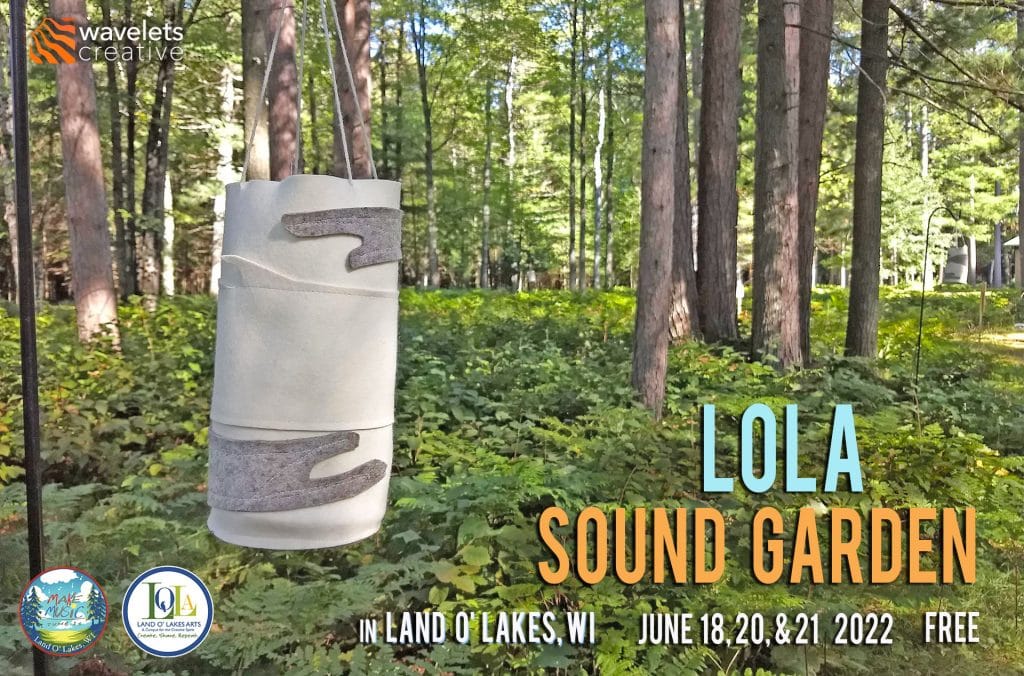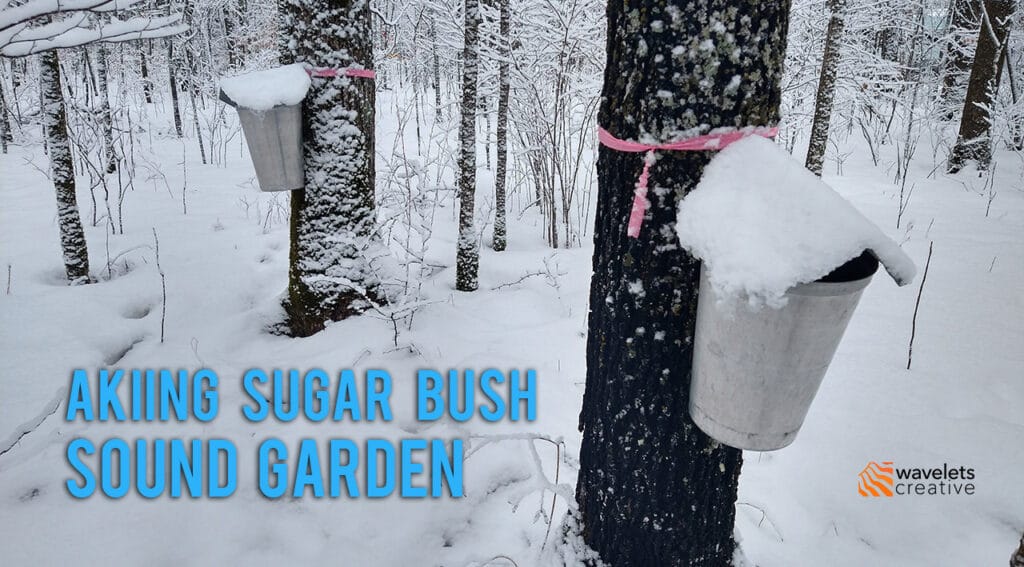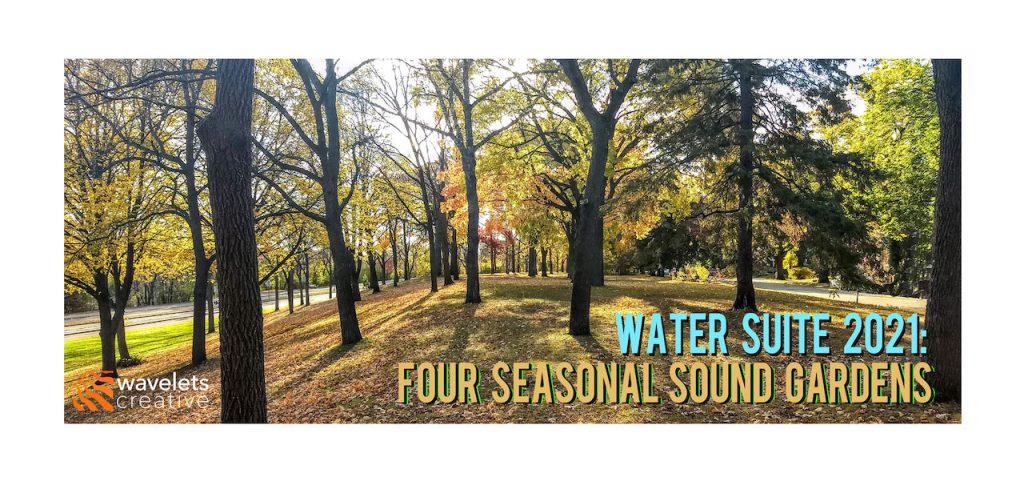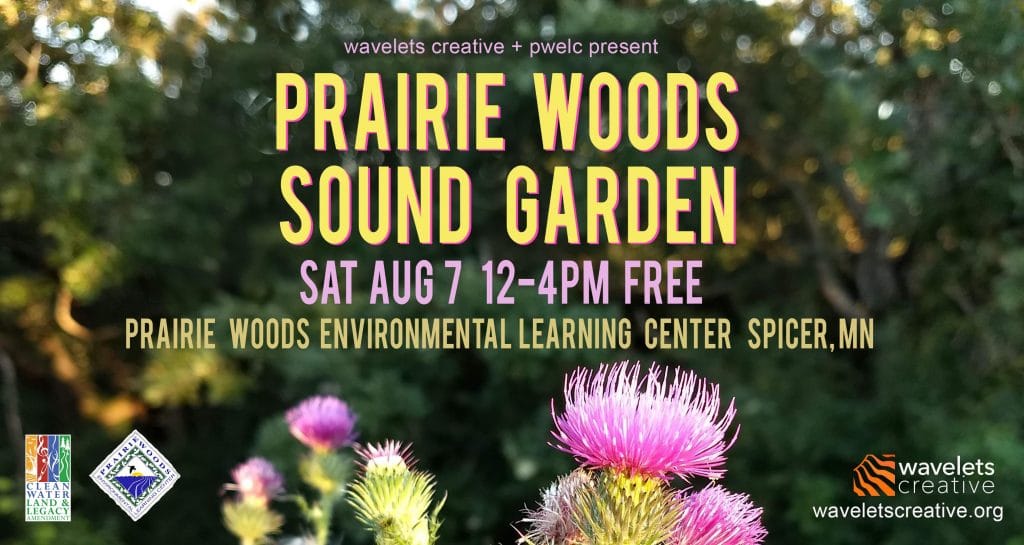 The Water Suite: Four Seasonal Sound Gardens (premiered in 2018)
In 2018 Wavelets Creative developed and presented four unique seasonally-inspired Sound Garden events, one for each season of the year, in four different outdoor locations around the state of Minnesota, premiering composer JG Everest's four-part Water Suite: Four Seasonal Sound Gardens. Each site was specifically chosen for its natural beauty, historical significance, and proximity to a significant body of water. The Water Suite was inspired by the Water Protectors at Standing Rock and the ongoing and urgent need to recognize and protect our precious water, and intended to facilitate transformation of our relationship to water and the natural world, by connecting with it in a different way. Each seasonal Sound Garden also featured commissioned site-specific poetry, visual art, storytelling, dance, history, and live performances by the roving Free Range Orchestra & Choir. They also included local community members in the creative process through a series of participatory outreach events and workshops for each site and season.
WATER SUITE VIDEO GALLERY
Audience Comments from recent Sound Gardens on West River Parkway (2021-22), Texa-Tonka Park (2022) Riverside Park (2022) and Prairie Woods (2021)
"I truly appreciated time walking, listening, breathing and seeing. The beautifully powerful music filled me in a joyful, quiet way." – Claire
"a perfect antidote to all that ails us in this city." – anonymous
"It felt magical- otherworldly and floaty. I felt like I was swimming through a sound landscape" – Teresa
"Today was tough for me but visiting your Sound Garden allowed me to witness some peace of mind. Thanks to you and everybody else for that. It felt as though help was on the way. On the way to the site, I walked past various sites of desecration and saw evidence of new growth and healing taking place. I suppose that I am healing too." – anonymous
"I felt very consoled. The music was hauntingly lovely and encouraged me to be still and attentive: look up into the trees; watch the dancers in the distance; connect with the remembrance of our mothers; ponder the poetry. The live music was an unanticipated delight. I especially resonated with the quiet rhythmic drumming". – Helen
"It was very contemplative, interesting. I found my mind wandering in a productive way. My favorite part was the slowly changing music, that would fade into the background, then become noticeable again, though different." – anonymous
"I felt calm, senses awake and like life should always be like this" – anonymous
"I felt calm and open, favorite part was the sounds coming from many directions (also loved having the dancers in the spaces)" – Becky
"I felt peaceful and curious; I liked how the remote speakers provided different sound layers as I walked back and forth" – Anonymous
"It was magical. I didn't know where the sound was coming from. I liked that there were created forest structural elements. It felt like a visceral experience. Really like I was enveloped within a different world. When you moved through the Sound Garden the sound changed- you would have different aural experiences. Even if you were sitting in one place, people would bring the sounds near or away from you and it was layered." – Beth
"Serene, delighted. My favorite parts were the dancers interacting with trees, the environment, with the subtle live musicians who added just the right amount of texture to the recorded and real life city park sounds." – Anonymous
"Mesmerized by the variety of music and the joy of the dancing….so relaxing. My favorite part was the freedom and relaxed pace and the unfolding of care, appreciation of the trees, the beautiful bench. Even now it is difficult to describe but I would certainly recommend it to others." – Judy
"I had calm, watery eyes but not crying eyes. My favorite part was hearing music from all directions; stopping and closing my eyes. I was surprised by how "good" I felt deep inside; how grateful." – Kathleen
"I felt calm, soft, inspired, touched, moved, entertained, curious, open. It was like experiencing reality after a couple of days doing sitting meditation. A surprise. A slowing down, savoring, even noticing the traffic, bicyclists differently. Hard to pick a favorite part – Gazing at the tree branches & buds while listening to the music. Noticing how the roving musicians and the music from the boxes were never in dissonance (were they all in the same key? How did they do that?!). Standing next to chimes that were still and just as I began to move away a very slight and gentle breeze moved the dingy thing around the chimes and made a sweet, subtle sound. Some of the poems. The visual delight of the dancers in their spring green and spring energy movement. I didn't know what to expect. I was surprised that after the first 2 moments of quietly being with the sounds, the green buds, the fresh air, I quickly descended into another zone of being settled and present." – Elizabeth
"This is an innovative way of using space! I am more peaceful now. Thank you for the vibes!" – Dex
"I felt present and safe and cozy and at peace. Favorite part was reading all of the poems and taking solo space. I was suprised by how I sunk into it." – Jenni
"An amazing experience. Peaceful, free, connecting with nature and other people." – Chris
"It was amazing to be in the rain and to walk around the changing soundscape. the saxophonist/flutist in the north seemed most dialed in to the music. I loved what he contributed. I also loved Dosh on the cymbals. But the overall effect of sound in space with leaves and traffic and rain was transcendent. Thrilled to be in a space where listening is prized." – Nathan
"I felt Relaxed and enchanted by the combination of the garden and the weather. Favorite part was the interaction of the breeze, the falling leaves and the light with the music and the sounds emanating from the felt pods, the birdhouse etc." – Ewart
"I felt peace and confusion and joy and winter chills. I found the invitation to slow down SO important, and I felt invited to be a bit silly too. I laid on a bench and looked at the sky upside down. I dove into the experience, knowing that I was an active participant. Thank you for that guidance. And I loved also encountering poetry on the trees. Magical!" – Anonymous
"I felt really calm and relaxed. It was almost like a guided meditation experience. I really enjoyed the opportunity to slow down, and just notice my surroundings. I was surprised at how much visual and written art there was in addition to the soundscapes." – AJ
"what a beautiful way to unplug from daily life" – anonymous

SOUND GARDENS PHOTO GALLERY



Additional Sound Garden events, past and future:
—2023—
Earth Day Sound Garden at Montalvo Arts Center, Saratoga, CA April 20, 22, 23
Akiing Sugar Bush Sound Garden (remounted) Museum of Craft and Design, San Francisco, CA May 6
Library Woods Sound Garden at Madeline Island Public Library, LaPointe WI, May 27-28
LOLA Sound Garden, Land O' Lakes, WI June 15-17
Summer Sound Garden at HeartSpace Garden, MPLS July 15
—2022—
Pop-up WINTER Sound Garden on West River Parkway, Mpls, Saturday Feb 5
Winter Sound Garden at Water Protectors Welcome Center, Palisade, MN Saturday Feb 12
Sugar Bush Gathering & Sound Garden at Akiing Water Protectors, Palisade MN Saturday March 26
Earth Day Sound Garden at Wargo Nature Center, Lino Lakes, MN Saturday April 23
Riverside Park Sound Garden, Minneapolis, Saturday May 14
LOLA Sound Garden, Land O Lakes, WI, Saturday June 18, 20, 21.
Summer Sound Garden, HeartSpace Gardens East Phillips Neighborhood, MPLS, Saturday July 9
Texa-Tonka Fall Sound Garden at Texa-Tonka Park, St Louis Park, Saturday Oct 8

—2021—
Pop-Up SPRING Sound Garden at West River Parkway Saturday May 8
SPRING Sound Garden at Harbor Park, Grand Marais Saturday & Sunday May 29 & 30
LOLA Sound Garden for Make Music Day, Land O' Lakes Wisconsin, June 21
Pop-Up SUMMER Sound Garden on West River Parkway, Mpls, Saturday July 10 (click to register)
PRAIRIE WOODS SOUND GARDEN (PREMIERE), Spicer, MN, Saturday August 7
Pop-Up FALL Sound Garden on West River Parkway, Mpls, Saturday Oct 2
Akiing Fall Sound Garden at Water Protectors Welcome Center, Palisade, MN, Oct 30
—2020—
iNMiGRATiON: Fall Sound Garden at Riverside Park ("virtual"), Minneapolis, Oct 10-18, 2020
iNMiGRATiON: Fall Sound Garden open pop-up rehearsals at Riverside Park, Sept 4, 26, & Oct 3, 2020
iNMiGRATiON: Summer Sound Garden open pop-up rehearsals at West River Parkway, Minneapolis, July 23 & Aug 16, 2020

—2019—
Fall Sound Garden at Caponi Art Park, Sept 2019
Winter Sound Garden at Golden Bay, Chippewa City, MN Feb 2019
Spring Sound Garden at Belwin Conservancy, Afton, MN April 2019

—2018—
JG Everest's WATER SUITE premiere events, presented by Wavelets Creative in 2018:
WINTER Sound Garden at Lake Nokomis in Minneapolis, MN – February 18, 2018
SPRING Sound Garden at Harbor Park in Grand Marais, MN – May 27, 2018
SUMMER Sound Garden at Silverwood Park in St Anthony, MN – July 22, 2018
FALL Sound Garden at Manomin Park / Rice Creek in Fridley, MN – Sept. 30, 2018
Summer Sound Garden at The Wolf House in Minneapolis, MN – July 28, 2018

—2017—
Oneness Sound Garden performance at Franconia Sculpture Park Sept 2017
Monarch Magic! Sound Garden at Minneapolis Monarch Festival / Festival de la Monarcha, Sept 2017
Summer Sky Sound Garden at Northern Spark Festival June 2017
MayDay Sound Garden at The Wolf House, Mpls May 2017
—2016—
Monarch Magic! Sound Garden at Minneapolis Monarch Festival / Festival de la Monarcha, Sept 2016
iNMiGRATiION: Winter Solstice Sound Garden at The Wolf House, Dec 21 & 22, 2016.
For more information about Sound Gardens, please visit Artistic Director JG Everest's website.
This activity is made possible by the voters of Minnesota through grants from the Minnesota State Arts Board and the Metropolitan Regional Arts Council, thanks to a legislative appropriation from the arts and cultural heritage fund.