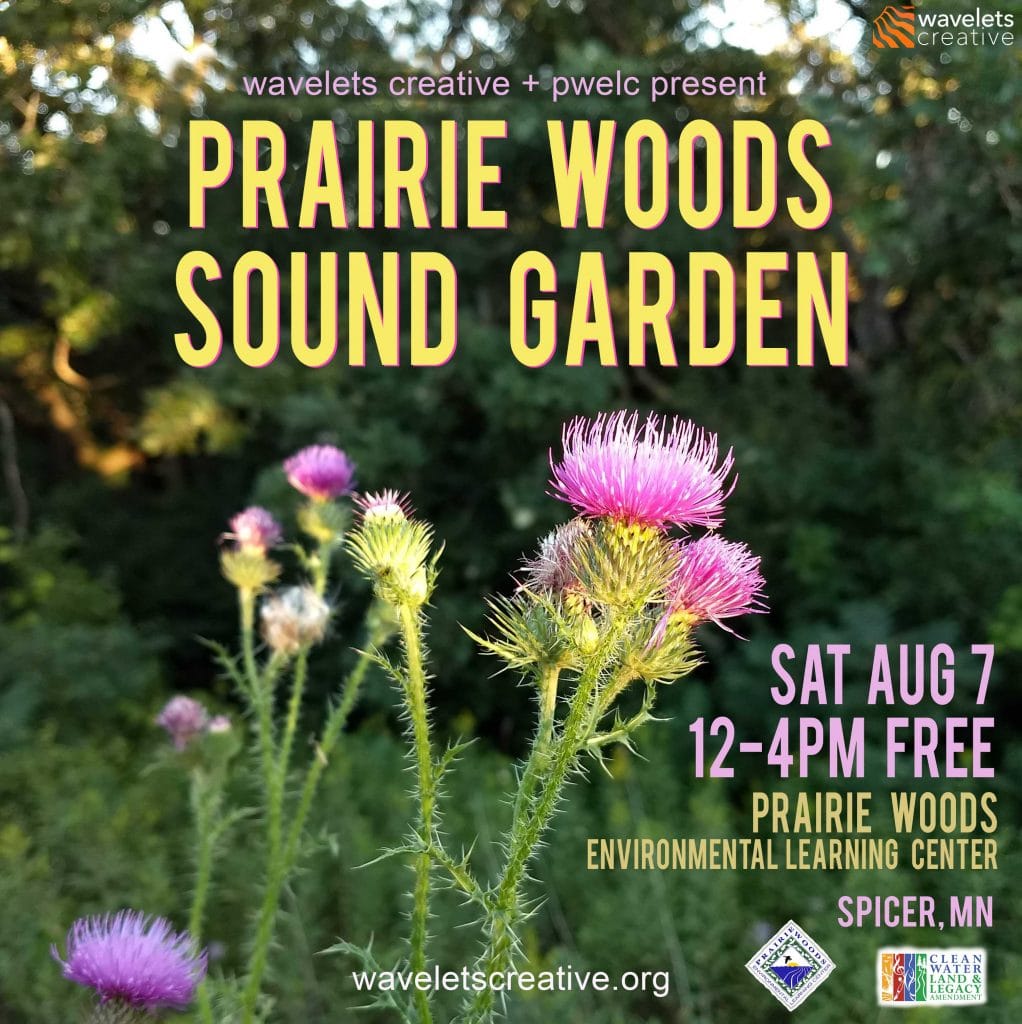 New Sound Garden premiere performance at Prairie Woods!
The long-anticipated new Sound Garden event that was postponed from last summer due to Covid-19 is slated for Saturday Aug 7 at the Prairie Woods Environmental Learning Center near Spicer, MN, a 2-hour drive west of the Twin Cities in beautiful Kandiyohi County. Additional trails and recreation at nearby Sibley State Park, (10 min drive) for those who'd like to make a weekend of it, if you're coming from farther away.

Prairie Woods ELC occupies over 500 acres of wild prairie, woodland, and wetlands and is a perfect site for an immersive, quiet Sound Garden experience in a natural setting. (see photos below) This event is Free, family friendly, and open to all. It will feature a live roving movement score performed by dancers Leslie O'Neill, Sarah Baumert, and Erika Hansen with live musical accompaniment by members of the Free Range Orchestra, plus site-specific poetry and storytelling.
Register HERE for the Prairie Woods Sound Garden event, and to receive further details and important updates about the performance and venue.
What is a Sound Garden? A short interview with composer JG Everest.
The Prairie Woods Sound Garden at PWELC is a family-friendly free outdoor event open to all ages and will take place from noon – 4pm on Saturday August 7, 2021. The event is rain or shine, unless it is extremely bad weather, in which case it will take place the next day, on Sunday, August 8 at the same time.
The Prairie Woods Sound Garden will feature a temporary sound installation of 50 small, battery-powered remote speakers distributed throughout the park area, each playing a different part of the larger piece of music, creating a multi-layered, immersive experience. The sound installation is accompanied live by roving musicians and dancers, "The Free Range Orchestra", which includes acclaimed music and dance artists from the Twin Cities, as well as local participants.
Local residents may remember James Everest from the site-specific performance installation MY OCEAN, which he directed and co-created with local artist and performer Bethany Lacktorin at nearby Ordway Prairie in the Summer of 2016. MY OCEAN similarly included a spatial sound score composed by Everest and performed by a roving choir and orchestra along a 1.5 mile hike into the wild prairie.
**NOTE: If coming from out of town and seeking accommodation, we recommend booking immediately, as many local campgrounds and hotels are nearly full or already sold out.**
Presented by Wavelets Creative in partnership with the Prairie Woods Environmental Learning Center.
This activity is made possible by the voters of Minnesota through an Arts Touring grant from the Minnesota State Arts Board, thanks to a legislative appropriation from the arts and cultural heritage fund.