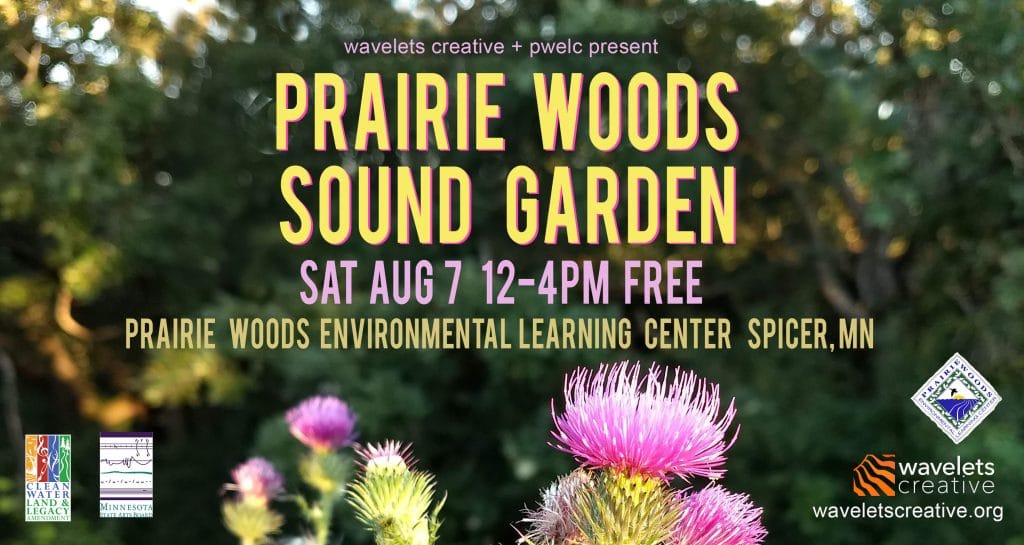 New Sound Garden premiere performance at Prairie Woods!
(photo gallery & video excerpts below)
The long-anticipated new Sound Garden event that was postponed from last summer due to Covid-19 took place on Saturday Aug 7 at the Prairie Woods Environmental Learning Center (PWELC) near Spicer, MN, a 2-hour drive west of the Twin Cities in beautiful Kandiyohi County. Here are two preview / interview articles: preview in the West Central Tribune. and a preview in Lakes Area Review newspaper.

Prairie Woods ELC occupies over 500 acres of wild prairie, woodland, and wetlands and is a perfect site for an immersive, quiet Sound Garden experience in a natural setting. (see photos below) This event is Free, family friendly, and open to all. It will feature a live roving movement score performed by dancers Leslie O'Neill, Sarah Baumert, and Erika Hansen with live musical accompaniment by members of the Free Range Orchestra, site-specific photography by nature photographer Sarah Musgrave, and site-specific poetry and storytelling performed live by Lisa J. Yankton.
The Prairie Woods Sound Garden featured a temporary sound installation of 60+ small, battery-powered remote speakers distributed throughout the park area, each playing a different part of the larger piece of music, creating a multi-layered, immersive experience. The sound installation was accompanied live by roving musicians and dancers, "The Free Range Orchestra", which includes acclaimed music and dance artists from the Twin Cities, as well as local participants.
Local residents may remember composer / director JG Everest from the site-specific performance installation MY OCEAN, which he directed and co-created with local artist and performer Bethany Lacktorin at nearby Ordway Prairie in the Summer of 2016. MY OCEAN similarly included a spatial sound score composed by Everest and performed by a roving choir and orchestra along a 1.5 mile hike into the wild prairie.
The Prairie Woods Sound Garden was Presented by Wavelets Creative in partnership with the Prairie Woods Environmental Learning Center.
This activity is made possible by the voters of Minnesota through an Arts Touring grant from the Minnesota State Arts Board, thanks to a legislative appropriation from the arts and cultural heritage fund.
Comments and Photos from the Prairie Woods Sound Garden premiere event:
"It was beautiful. I didn't realize how many thoughts and feelings I had rushing through my body until I was finally able to sit and slow down. I will definitely be coming back for your next sound garden! Favorite part was the large open space with benches to sit at. It was nice to close my eyes for a few minutes and enjoy my experience, but also watch others. It made me smile to see so many people enjoying the same experience as me."
"I experienced happiness and saw things that easily can go unnoticed."
"The most serene, calming, soul-soothing experience. In a chaotic world, this is just what I needed. The absolute beauty was beyond what I expected"
"I was able to find a tree, facing the lake, where I could sit, close my eyes and just listen to the music and nature. I almost took a nap."
"My Dad recently passed away. I felt him there. Or maybe felt I could let go of my grief and feel his spirit."
"I would recommend that you plan extra time for this attraction. The second time through, it became more spiritual, emotional, calming and with an awareness of the environment and sounds we need to have peace of mind, heart, and in the world." – Sharon Oleson, PWELC Board Member
(Quoting one of the signs) "The more we operate in the moments in our life convinced that everything is fixed, the more we…" …risk missing the serenity of the Sound Garden (and other comparable invitations) that challenge us to sit back and know the answer is almost always YES."
"I felt calm, emotional, peaceful. My favorite part was the sound over the prairie looking at the water sitting on the benches provided. I was surprised by the entire experience, this was our first time, my four year old grandson also loved it and was very quiet the entire time. I had a friend not want to attend because of the write-up in the paper, she thought it sounded too strange. I called her later and told her how wonderful it was."
"If more of us experienced nature like this (or at all) the world would be a different place!"
"Wonderful, so peaceful. Actually brought tears to my eyes. Peace for the soul!"
PHOTO GALLERY FROM PRAIRIE WOODS SOUND GARDEN on Aug 7 2021

This activity is made possible by the voters of Minnesota through a grant from the Minnesota State Arts Board, thanks to a legislative appropriation from the arts and cultural heritage fund.