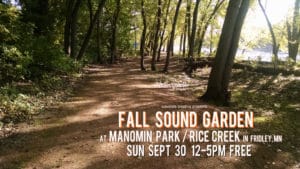 Minneapolis-based award-winning Composer / Director JG Everest comes to Fridley as Artist In Residence to develop and present a site-specific "FALL Sound Garden" performance installation at Manomin Park in Fall 2018 as part of a 4-part suite of site-specific "sound gardens" composed for each of the four seasons, at 4 different outdoor locations around MN.  
The Manomin Park / Rice Creek Sound Garden is a family-friendly free outdoor event open to all ages and will take place from noon – 5pm on Sunday September 30,  2018.  The Sound Garden event will celebrate the coming of Autumn, and the history, geography, and ecology of Manomin Park, Rice Creek, and the Mississippi River, at the time of year when this sacred place traditionally served as annual hunting and harvest grounds for the wild rice harvest by both Dakota and Ojibwe people for centuries.  The Sound Garden will feature a temporary sound installation, combining live musicians and a small choir with 40 small, battery-powered remote speakers distributed throughout the park.
In addition to the sound installation, the event will feature other site-specific art elements created by local community members through a series of 4 Free outdoor community Art + Nature workshops held onsite at Manomin Park in the week leading up to the event.   Each workshop will consist of a guided nature walk followed by art-making activities led by teaching artists in each discipline: Poetry, Dance, Sculpture, and Sound / Music. Workshops will be free and open to people of all ages, backgrounds, and abilities.
Register for Free Community Art + Nature Workshops
ESSENTIAL DETAILS:
Free, Family-Friendly event, from

12-5pm on SUNDAY SEPT 30.

Sound installation (remote speakers, live musicians, live choir, live poetry)

4 Free Community Art + Nature Workshops (exact schedule TBD)

History: Archival photos and storytelling of the area and Rice Creek, presented in partnership with the Fridley Historical Society

Dance & Performance artists, storytellers and naturalists

The Sound Garden will be developed over the course of on-site artist residencies during summer and fall of  2018, as a collaboration between James Everest and other local artists, naturalists, and community members.
Presented by Wavelets Creative in partnership with Positively Fridley, The City of Fridley, Anoka County Parks, Banfill-Locke Center for the Arts, Fridley Historical Society, and Anoka County Libraries. 
Wavelets Creative was formed by Artistic Director and lead artist James Everest in 2016 to facilitate the growth of an artistic community that could offer unique artistic experiences to artists and audiences alike.
Wavelets Creative's mission is to collaboratively develop, create, and perform interactive, multi-disciplinary site-specific performance installations as a way of bringing communities together to discover, acknowledge, and reflect upon the histories, cultures, and ecologies that connect us to each other and the natural world.
Wavelets Creative believes that the creative artistic process, while refined and matured in working artists, is an essential part of being human, and is present in everyone, if given opportunities to access it. By including local community members and organizations in aspects of the creative process and performances, Wavelets Creative works to generate ripples of new energy and awareness, awakening individuals and communities to their own capacities for growth and transformation in a way that more firmly grounds them in the times and places of their lives.
FOR MORE INFO: contact [email protected]
James G. Everest is a fiscal year 2018 recipient of an Artist Initiative grant from the Minnesota State Arts Board. This activity is made possible by the voters of Minnesota through a grant from the Minnesota State Arts Board, and the Metropolitan Regional Arts Council's Community Arts grant, thanks to a legislative appropriation from the arts and cultural heritage fund.