Composer / Director JG Everest concludes his year-long series of seasonal Sound Gardens with a culminating site-specific performance installation at Manomin Park / Rice Creek in Fridley, MN on Sunday Sept 30, from noon-5pm to celebrate the Fall harvest season, the Mississippi River and the historic Rice Creek Corridor called "Otunwe Wakpadan" by the Dakota people.
The Fall Sound Garden will feature a temporary sound installation featuring 40 independent speakers accompanied by the Free Range Orchestra & Choir, with sculpture, dance, and poetry elements developed through a series of onsite free outdoor art + nature community workshops, presented by Wavelets Creative in partnership with Positively Fridley, Anoka County Parks, The Banfill-Locke Arts Center, and The City of Fridley, with funding provided by the MN State Arts Board and Metropolitan Regional Arts Council (MRAC).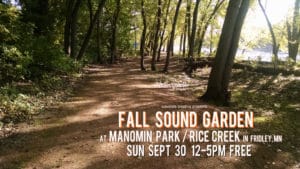 Fall Sound Garden at Manomin Park / Rice Creek Sun Sept 30
Minneapolis-based award-winning Composer / Director James Everest comes to Fridley as Artist In Residence to develop and present a site-specific "Sound Garden" performance installation at Manomin Park in Fall 2018 as part of a 4-part suite of site-specific "sound gardens" composed for each of the four seasons, at 4 different outdoor locations around MN.  
"This sacred place is where Dakota and Ojibwe people would gather for the fall hunting and harvest season, where the waters of Rice Creek flow into the Mississippi River, surrounded by tall majestic Cottonwood Trees.  It is a powerful place for reflection and connection to this land, this water.

composer / director JG EVerest
The Manomin Park / Rice Creek Sound Garden is a family-friendly free outdoor event open to all ages and will take place from noon – 5pm on Sunday September 30,  2018.  The Sound Garden event will celebrate the coming of Autumn, and the history, geography, and ecology of Manomin Park, Rice Creek, and the Mississippi River, at the time of year when this sacred place traditionally served as annual hunting and harvest grounds for the wild rice harvest by both Dakota and Ojibwe people for centuries.  The Sound Garden will feature a temporary sound installation, combining live musicians and a small choir with 40 small, battery-powered remote speakers distributed throughout the park.

Free Community Workshops
In addition to the sound installation, the event will feature other site-specific art elements created by local community members through a series of 4 Free outdoor community Art + Nature workshops held onsite at Manomin Park in the week leading up to the event.   Each workshop will consist of a guided nature walk followed by art-making activities led by teaching artists in each discipline: Poetry, Dance, Sculpture, and Sound / Music. Workshops will be free and open to people of all ages, backgrounds, and abilities.
This activity is made possible by the voters of Minnesota through grants from the Minnesota State Arts Board and the Metropolitan Regional Arts Council, thanks to a legislative appropriation from the arts and cultural heritage fund.